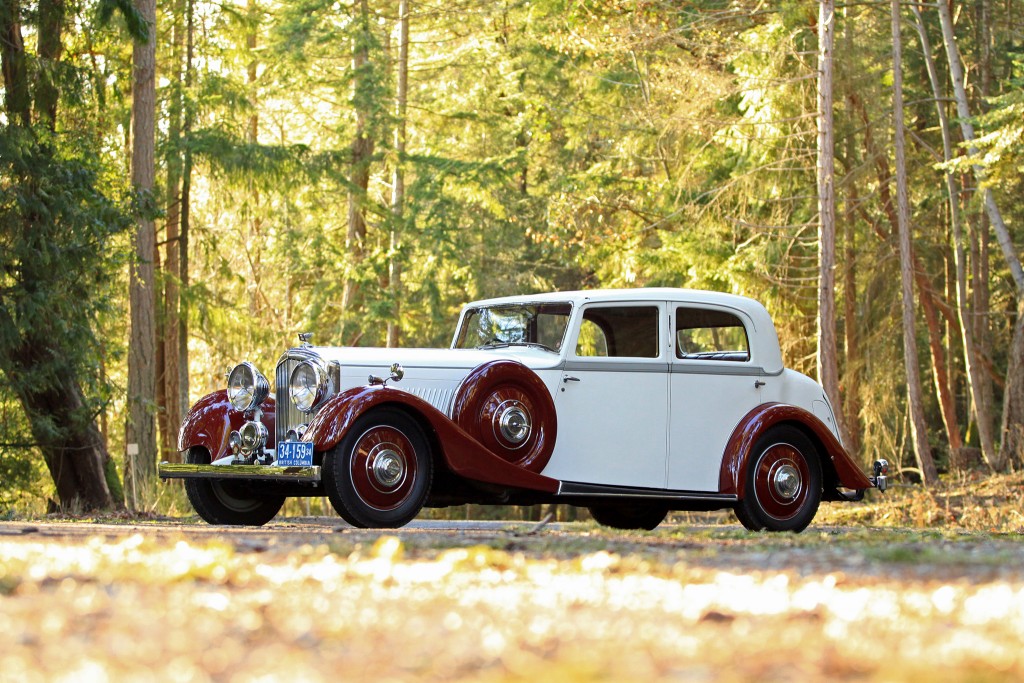 -Licensed and registered on Gabriola Island, BC, Canada.
-Chasssis B165BL first delivered in London with registration BGN 5.
-Fully functioning and ready to drive.
-Carefully maintained and driven by an enthusiatic member of the RROC and RREC.
-Matching numbers engine and hood
-Recent major engine rebuild in 2005 by Bristol Motors.
-One of six cars delivered in Ultramarine Dark Blue with black fenders.
-Impressive original woodwork with bookmarked dashboard.
-Sold without front club badges or 1934 BC License plate.
-Can be delivered to Richmond/Port of Vancouver for professional worldwide export for a reasonable fee.
-Sold as is with no warrantee whatsoever.
-Detailed paint and chrome apraisal availble on request
Bentley B165BL by Nick Northeast
Delivered new to E. W. Smith ( who was associated with instrument manufacture but not the "Smith" of Smith's instruments ) of Bletchingley House, Bletchingley, Surrey on September 22nd 1934 and supplied by Car Mart. Build records which will be included with the sale indicate car was ultramarine with black fenders (wings) and fawn interior. I have pieced together the ownership history from new – see separate document. The car passed through various owners and was shipped to Canada in 1970 where it was restored and painted white. Next owner acquired car in 1980 and had the heater installed at that time. The leather was replaced in red, which is still in good condition. He had the starter motor rebuilt in 1981 and then the interior fabric except the headliner. In 1987 he had installed a stainless steel exhaust system and the road springs re tempered plus new wefco gaiters. The dynamo was rebuilt in 1994 and the brake servo in 1999. I acquired car October 2003. By this time the engine was showing signs of wear and in late 2004 suffered a broken wrist pin in one of the pistons. Over the next 9 months the engine was rebuilt completely, cylinders sleeved to original spec with new pistons and Mk. VI con rods replacing the original ones whose design utilized external oil pipes. All bearings were replaced and mains white metalled and line bored. Engine was rebuilt at Bristol Motors in Victoria BC, the same shop that is entrusted to look after the ex John Lennon 1965 Phantom V 5VD73 for the Province of BC.
Car has covered just in excess of 7000 miles since all recorded in a log book that will be included. An earlier log book from 1970 plus many invoices that date back as far as 1971 will also be included. When I purchased the car, it had no original tools. However an original wheel wrench and "C" spanner for the wheel discs will be included. The car also has its original ignition/door key. ( see photo ).
I have checked with the DVLA in the UK and the license number BGN 5 has not been assigned to another vehicle so I believe, but can not guarantee, the number should be recoverable if the car is returned to the UK.
Notes on Car Condition
Car came with added heater in the front centre foot well and a battery cut off switch on inner aspect of firewall bulkhead. Lap seat belts are fitted but are not attached to adequate anchor points. "Better than nothing" is how I describe them.
2004
Acquired and refinished genuine forward leaning "B" mascot with steam valve .
( Old radiator cap included to use as "town cap" )
2004 – 2005
Engine – full rebuild to original specs except using Mk VI conrods with internal oil passage to wrist pins, cylinders re-sleeved, mains white metalled and line bored, new alloy pistons, correct upper radiator hose set up, Ignition set up with 2 original rebuilt bakelite coils and correct ballast resistor on double coil mounting bracket. [ Note – as used in later series cars but original single coil mount bracket comes with the car ].
2005
New Battery, Fenders painted Maroon
New Clutch lining
2006
Chrome front and rear bumpers, powder coat front engine mount and bumper brackets and safety hooks
2007
From Fiennes Engineering : Install correct new fuel nickel plated supply pipes from filter through to fuel pumps to carburettors.
Stafford Vehicle Components : Reproduction "D' tail lights and side light conversion with 2 flasher units so the trafficator arms work in conjunction with flashing indicators, all from original clockwork switch.
2008
Strip paint and powder coat in light grey all wire wheels, paint and finish chrome rings and wheel nuts for "deluxe" wheel discs, 2 new Bridgestone tires. Rebuild fuel pumps, one with points, the other electronic conversion
2010
New wheel bearings
The Frawley Company, (Pennsylvania ) :
Master Switch stripped and rebuilt
Re engrave and finish Master switch, Starter button, Steering wheel boss,
re- chrome horn button, door handle escutcheons
Replace original failing speedometer with original rebuilt unit from Avenuemail U.K.
Re-chrome ParkWard coach plates.
Future work needed to my knowledge –
Mechanically for the most part the car is in good condition and has always started regularly " on the button" with good oil pressure. It idles smoothly and will tick over at 500 rpm when warm but is more comfortable at about 800-900 rpm. On the road the car is smooth and tracks well. I prefer not to exceed 3000 rpm so I tend to drive at 55 – 60 mph. Battery has been maintained but is now 10 years old so new one is due
The gear box has never been dismantled during my ownership and although is perfectly useable, I feel there is wear, pulling hard up a steep hill in second gear I have had the car jump out of gear and the synchromesh is worn. Clutch was replaced in 2005 but with a fully loaded car up a steep hill some slip is evident. Care is needed to not overheat it. When clutch is depressed there is some whine from possibly the thrust bearing but so far hasn't affected its drive-ability. The clutch on the early Derbys is known for early wear but Fiennes Engineering have developed a modification to address the problem. Drive dogs have slight click so will likely need attention in the future. Car has always braked well and the the servo works fine but I have not examined them lately.
The bijur oiling system works but has not been checked for correct oil flow at the nipples. I suspect it can be improved. Calorstat radiator shutters work.
All lights work, including interior light but an upgrade to brighter LEDs and possible reflector re-silvering would no doubt improve night driving. Chrome on P100s is reasonable but there are nicks and small dents. Centre spot light is Notek with WW II era shutter. I had custom covers made for all 3 headlights ( see photo ) Horn works. Trafficator arms work in conjunction with amber flashing indicators all off the original clockwork switch. All dash instruments work including the clock and night illumination.
Bodywork.
At time of engine rebuild, the opportunity was taken to clean the firewall bulkhead aluminum and the chassis side rails. The previous owner to me had a long unfinished driveway and so along with the oiling system, a layer of oily clay covered much of the underside of the car. Without dismantling anything, I spent many hours underneath the car to clean it but the mixture had seemed to work as a rust inhibitor because I was amazed how sound the chassis is underneath. I believe it is due to the high carbon content of the steel used in combination with the oil layer. One arm part of the running board support brackets each has been cut away in the past for no reason that I can see. Also not present are under trays or the mudguard liners to the fenders.
There is aluminum corrosion in parts of the coachwork with areas of paint bubbling and cracking especially around the roof drains – probably the weakest aspect to the car. The white paint was done around 1970 or so is due for a repaint. Sun roof still works but fabric is "tired". The doors do not droop and close readily with nice fit lines. The window mechanisms work but the glass channel felting is worn so the windows do not wind as smoothly as they should and need help to guide them. Carpet dates from approximately 1980 and is worn and needs replacing .
I believe the previous owner had a minor rear end accident. Repair work to the trunk lid was not the best in my opinion. Fit gap is poor and is not entirely waterproof. The trunk lid had been attached to chains instead of brackets to hold it in the open position and the original step down from the trunk floor for tools had been modified with the addition of 3 drawers ( see photo ). The chains were not vintage looking but I found the original lid stays amongst some spares that came with the car. I removed the chains and fitted the stays but had to improvise somewhat to make them work. Before any repaint the bodywork issues as outlined need to be addressed.
Wood work is original walnut and is in above average condition, glove box itself has been remade in the 1980s however the lid is original but knob is not. Other dash board switches are genuine.
Note bulkhead has never been drilled to accommodate the original jack. I believe the jack for this early series car would have been located in the trunk along with the other major tools.