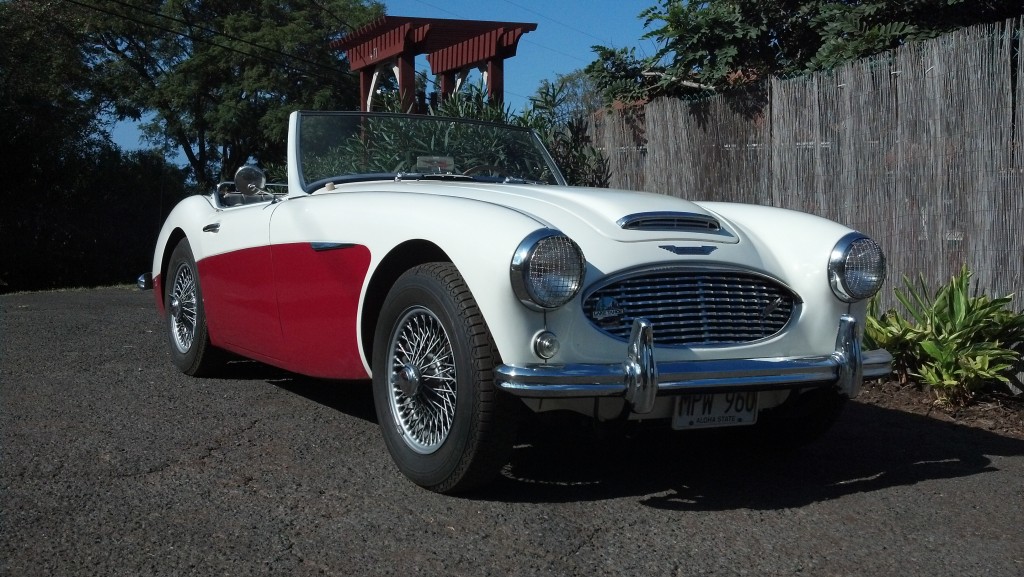 -Careful and meticulous ownership from new.
-100% solid and original panels
-Delivered new to San Francisco with Wire Wheels, Overdrive, Heater, Adjustable Steering Column.
-Offered with an original hardtop, sidecurtains and tool kit
-High level of maintenance and operating condition.
Here is a chance to buy one of the most impressive BT7s we have seen. Its owner Jim Briske has been involved with the Healey concours community for a considerable time and has faithfully reconditioned most of the car to retain its originality.
Somewhat of a unique opportunity, the car is now located at a 3000 ft elevation in Maui, and would make the ultimate vacation testdrive.

CAR'S CURRENT CONDITION
-72 spoke painted wire wheels/ Michelin tires from Hendricks Wire wheel.
-4 new hubs, original knockoffs.
-Silicone brake/clutch fluid, new hoses
-Balanced rear brake drums
-Rebuilt swivel axels
-Rebuilt original rear springs
-Rebuilt original shocks
-New wiring harness [British Wiring ]
-Original chrome replated
-Interior, grey leather, red trim done by John Wilson, Oregon. To concourse standard.
-3 Tops. 1.Concorse condition hardtop, old English white, headliner from Roger Moment,
-Window and trim from Bill Bolton.
-2.New Robbins top, original top frame
-3.Surry suntop. [see photo]
-Sidecurtains: Original , reconditioned, see photo
-Engine: Replaced freeze plugs, timing chain,tensioner,seal. Rear oil seal, lighten flywheel [Bill Bolton]. Rebuilt starter & generator. Stainless steel exhaust . Spin on filter[original included] Car has run on Mobil 1 since 1989 . Alum. Flex fan from Norm Nock. [original included] Spare water pump in boot. Original radiator R&R with sleeved thermostat installed. No over heating problems.
Transmission: Toyota 5 speed with Smitty kit. Original trans. With 22% overdrive included. The Toyota trans allowed for a R&R of original trans.[ Preventative maint.] So the that the car could be driven. I did that with my BJ8. Both trans. use Redline oil.
Tool Kit: Original, unrestored. Verified as correct for this car by Roger Moment