a href="http://owenauto.ca/wp-content/uploads/2017/12/IMG_20171129_132210.jpg">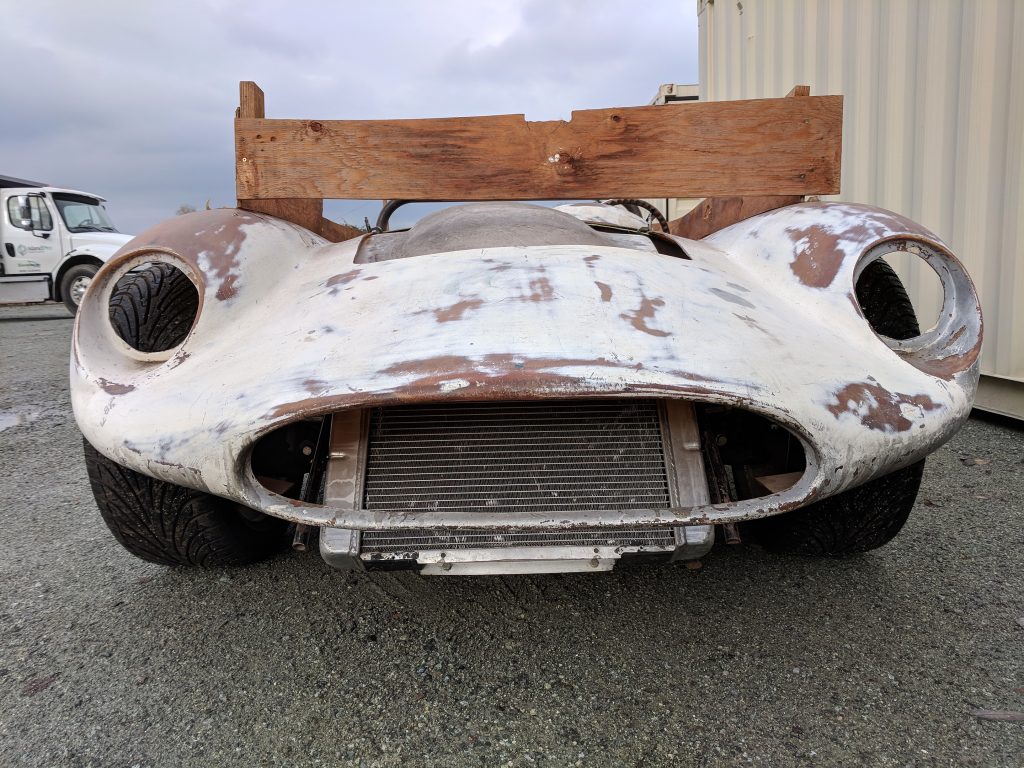 -Original Devin fiberglass body ordered new from California
-Comes with BC registration for road-legal driving
-Vintage chassis built to Devin specification
-Rare opportunity to resurrect a forgotten fiberglass racer.
-Fitted with 283 Chev V8, Borg Warner T10 and a Ford 9-Inch
Here is a unique opportunity to purchase a long-time Victoria, BC Devin Sports Racer.
According to a report made in 1984, this car was built in Victoria with a new body supplied by Devin Enterprises in Fontana, California. This report says the chassis and hubs were made with help from talent at the Esquimalt Royal Navy Dockyard and it may have been fabricated there.
Devin bodies were manufactured to a high-level and were built to suit multiple car chassis from throughout the 1950s and 1960s.
Complete with dashboards, shut panel gutters and interiors the Devin bodies were popular for applications like this Sports Racer.
Unfortunately, this Devin was never completed in period. Instead the body was fitted to a Chevrolet Corvair chassis and for some reason that car was eventually split up.
Luckily the original frame of the car was retained, although looking at pictures from 10 years ago it appears to have been stored outside.
And that brings us full circle to present day. The body original Devin body is intact minus one lower fender piece. A modest attempt was made to marry the body and chassis – for the first time – so work was carried out. This includes a new firewall and a jig to line up the body pieces as no shut-panel hindges are present. Installed are a vintage 283 Chev V8 with a period Borg Warner T10. The rear axle and boxes of spares come with the car.
Images from ~10 years ago. As found condition.