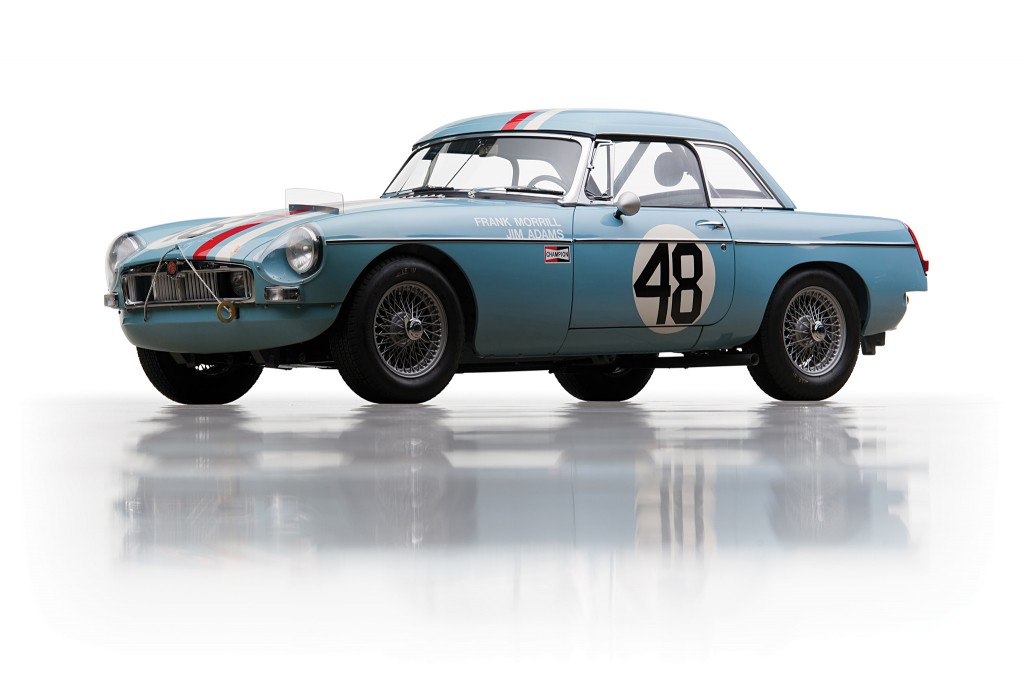 This car sold for $88,000 USD at the RM Sotheby sale
Tomorrow, RM Sotheby's will auction this MGB from the Paul & Chris Andrews Collection along with an impressive array of stunning showcars.
This is one of three cars prepared by Joe Huffaker, of British Motor Cars Distributors in San Francisco for the 1963 Sebring 12 Hour Race.
The auction description describes the car well:
Qvale was instructed by BMC to modify a trio of stock MGBs with upgraded components that had been sent over from MG in the UK and to build the cars to competition specifications. This included adding aluminum front fenders, an aluminum bonnet, a boot lid, and aluminum doors fitted with Perspex windows. Competition-specification four-cylinder motors were delivered to Qvale and immediately rebuilt by Joe Huffaker, the head of the competition department at BMCD, who added new pistons, revised porting, and his own custom-made camshafts. These engines were fed by dual gas tanks, and multi-speed windshield wipers were fitted to combat the possibility of rain.
Of course, as they were British cars campaigned by an American distributor with factory support, deciding on a racing livery for the three cars was quite simple: red, white, and blue.
For Sebring, the white #46 would be driven by Jack Flaherty and Jim Parkinson, while Jack Dalton and Ed Leslie would be behind the wheel of the red #47 and Jim Adams and Merle Brennan would pilot the blue #48. Although the MGs got off to a good start when the green flag was dropped, they faced fierce competition from a pair of factory-supported Porsche-Abarth Carreras, and the team hoped that they would outlast the cars over the following 12 hours. However, the team's resolve would be tested when, after just 15 laps, the white #46 car was forced to retire from a failed differential.
As the race continued, the remaining red and blue MGs pressed on, slowly working their way towards the front of the field. Twelve hours after the start, the remaining MGs finished 3rd and 4th in class, with the red #47 car taking 17th overall and the blue #48 car taking 22nd overall, which were good results for the two cars from Abington.