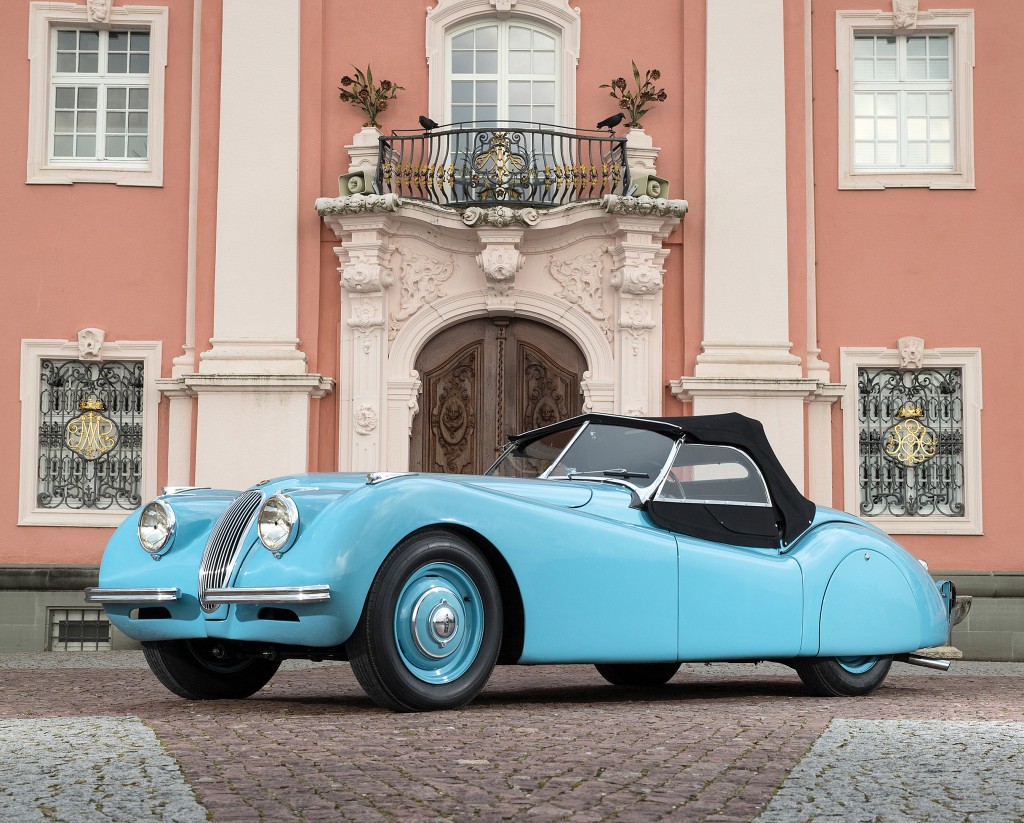 The XK120 roadster was Jaguar's first XK-engined sports cars and the first versions are particularly coveted as they have all-aluminum bodies.
RMSotheby's will be offering such a car at their Monaco sale on May 14th.
They describe it as:

"According to its Jaguar Daimler Heritage Trust certificate, this particular alloy-bodied example was produced on 6 February 1950, finished in Pastel Blue with a "Duo-Blue" interior and a Fawn soft top. It was destined for California and imported through Charles Hornburg's Los Angeles-based distributorship, dispatched from the factory on 22 February 1950. The car was purchased that same year by John Edgar, a noted racer living in Los Angeles at the time. It is believed that in June of 1950, the XK 120 was driven by Bill Pollack, who often drove cars entered by Edgar, in the Santa Ana Road Race, and it may have competed in other events around the same time in California.
Unfortunately, the car's early history remains unknown, at least until it was purchased by the late Jaguar collector Walter Hill. Hill purchased the car from George Boyd in 1976 (along with a C-Type and D-Type) and proceeded to keep the car in his ownership for the next 33 years. Looking to make it one of the finest examples at the time, Hill had the car fully restored to its original specifications in the early 1990s. Following the completion, he showed the car at Jaguar Club of America concours events, and it was consistently rewarded with scores of over 99 points—even attaining a score of 99.98 in June of 2005. The car remained well preserved and maintained until his passing. The XK 120 was then purchased by the renowned enthusiast Arturo Keller, who kept the car until 2013, when it was acquired by the current German collector.
Despite the car's older restoration, it still presents very well today in its original and eye-catching shade of Pastel Blue. Eligible for a variety of historic events and considered by many to be one of the finest Jaguars ever built, owning an XK 120 is a goal of many enthusiasts. Sitting firmly at the top of the pecking order, the early aluminium-bodied XK 120s are undoubtedly the most desirable iteration of the model and as such, an opportunity to purchase a well-restored and regularly maintained example should not be overlooked. "
Images by the talented Tom Gidden ©2016 Courtesy of RM Sotheby's.