Monterey brings together the top auction houses every August and this year there is a good supply of British metal. Having spent far too long looking at the lot listings, here are some cars which caught our attention. More information can be found at each companies' respective website:
http://www.russoandsteele.com/
Unrestored 1954 Jaguar XK120 Roadster S676243 61k Miles. from Gooding & Company sold for $101,850 USD.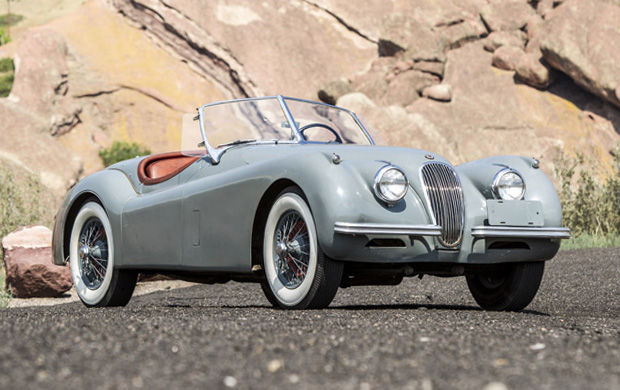 "Today the XK120 remains in largely original and unrestored condition. The red interior displays a charming patina. The exterior reflects a similar age that is only seen on well-kept, unrestored cars. Most recently, the car received an engine-out service, where various mechanical aspects were attended to."
The Joe Kelly and Jack Fairman 1953 Jaguar C-Type XKC-050 from Gooding & Company sold for $3,725,000 USD.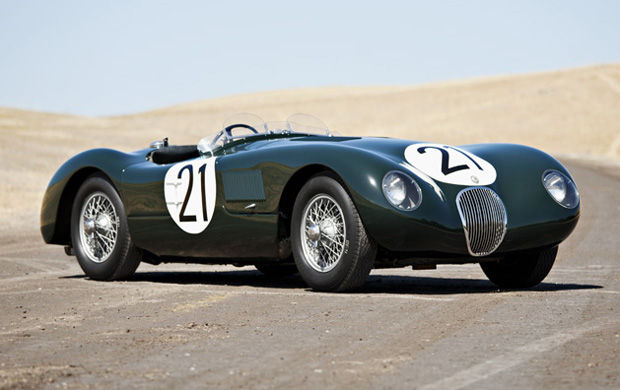 "Chassis XKC-050 remains a highly regarded example of the legendary C-Type and the last production car built. The Jaguar was a championed private entry in period competition and remains as one of the few non-works cars to have competed at the Tourist Trophy – the only example to race there twice. Known ownership and a successful contemporary motorsport career additionally place XKC-050 as a noteworthy C-Type. Most importantly, XKC- 050 is accompanied by its original engine, E1049/8 with the head 1024. Furthermore, the original chassis, engine, gearbox and body numbers appear correctly throughout the various components."
1960 Aston Martin DB4 GT DB4GT/0104/L from RM Auction sold for $2,035,000 USD
"Subject to a frame-up, rotisserie restoration from 1993–1996, two large photo binders document the extensive and meticulous effort. The chassis, floors, and inner fender panels were painted in correct "red oxide," prior to its final finish in black. Original body number stampings are evident in the photos and, indeed, still verifiable today. The photos show a comprehensive engine rebuild, along with the expected brakes, suspension, and differential overhaul. A modest 3,000 km have reportedly been added to the odometer since completion of the refurbishment, with the car showing 69,000 km in total (fewer than 43,000 miles)."
1953 Aston Martin DB3S/118 from RM Auction sold for $3,685,000.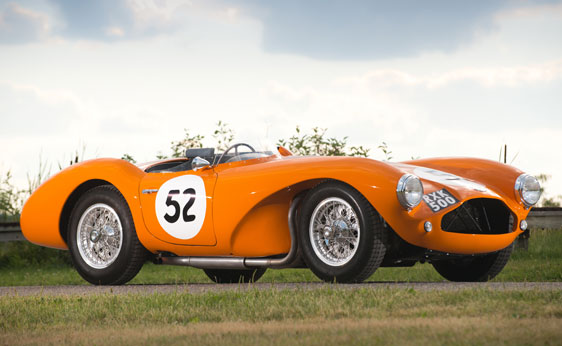 "Generally regarded as one of the more correct and original Aston Martin sports racers, it is important to note that this car still retains its original chassis with all numbers intact, and the body is also highly original, having only required minor repairs throughout its entire racing life."
1949 Jaguar XK120 Alloy Roadster 670059 from RM Auctions sold for $280,500.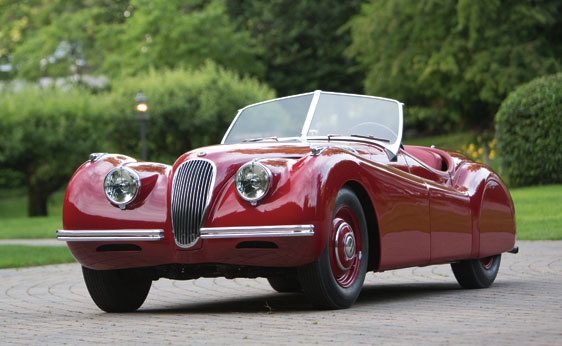 "This example has benefitted from a comprehensive restoration by RM Restoration in 1990. A dozen years on, the quality of that work and the diligent maintenance and attention since can still be seen in the excellent panel fit and even gaps, which are so difficult to achieve with this body. The rich red paint shows an even, smooth reflection of light, and the bright trim glows richly. Inside, the leather trim on the seats, doors, and dashboard show only the lightest traces of use, as do the correctly fitted carpets. Under the bonnet, the twin-cam XK engine and SU carburetors appear clean, well maintained, and freshened, with even enamel coating on the exhaust manifold and tidy wiring, hoses, and clamps."
28,000 mile 1964 Jaguar XKE Series I 3.8 Liter Roadster 880249 by Bonhams sold for $51,750 USD.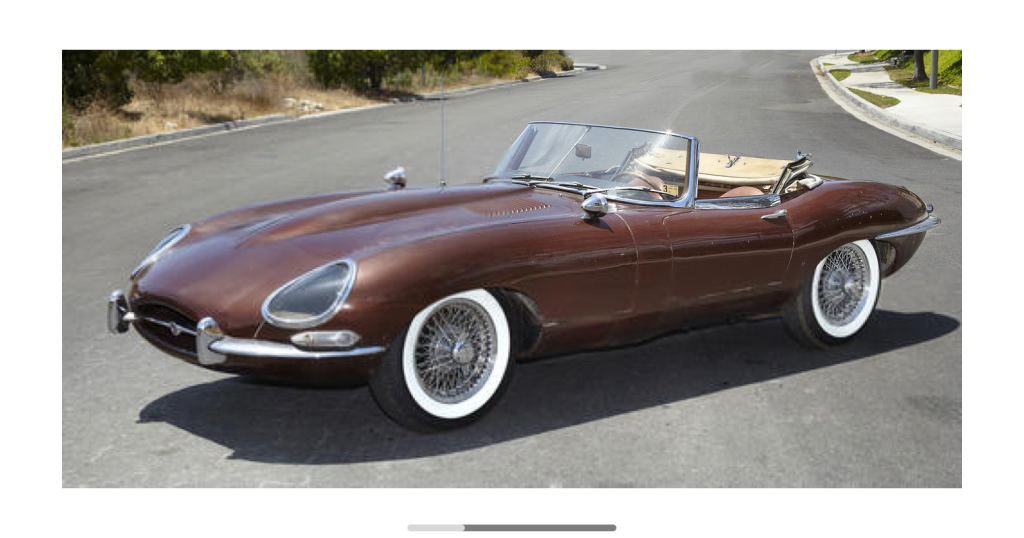 "Purchased on December 24, 1963 by Dr. Henry N. Hillard as a Christmas gift for his wife, Ethel, the roadster remained with the Hillards for the rest of their lives. Jaguar Heritage documentation confirms Dr. Hillard as the original owner as well as verifying that the car retains all its original integrity, including numbers matching engine, as well as chassis, gearbox and body numbers. The livery was Opalescent Golden Sand with a tan interior and Sand top."
Four-time Pebble Beach Road Races entrant 1936 MG NB NA/0878 from Bonhams did not sell.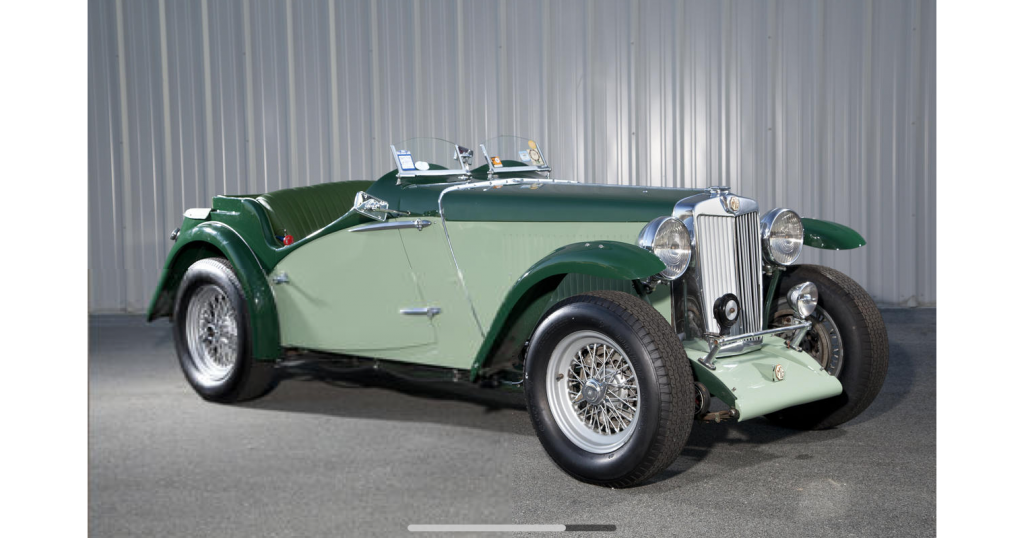 "This is a rare opportunity to own a car which was part of the sports car racing scene on the West Coast in its infancy, when amateur racing prevailed, and where camaraderie, social gatherings and sportsmanship were the norm. With its extensive racing history and unique place among pre-World War II MGs and British sports cars, this 1936 MG NB is a visceral memory of times past – and indeed still a competitor to this day."
Original Timewarp 1967 Aston Martin DB6 Saloon Chassis no. DB6/2832/L/N by Bonhams did not sell.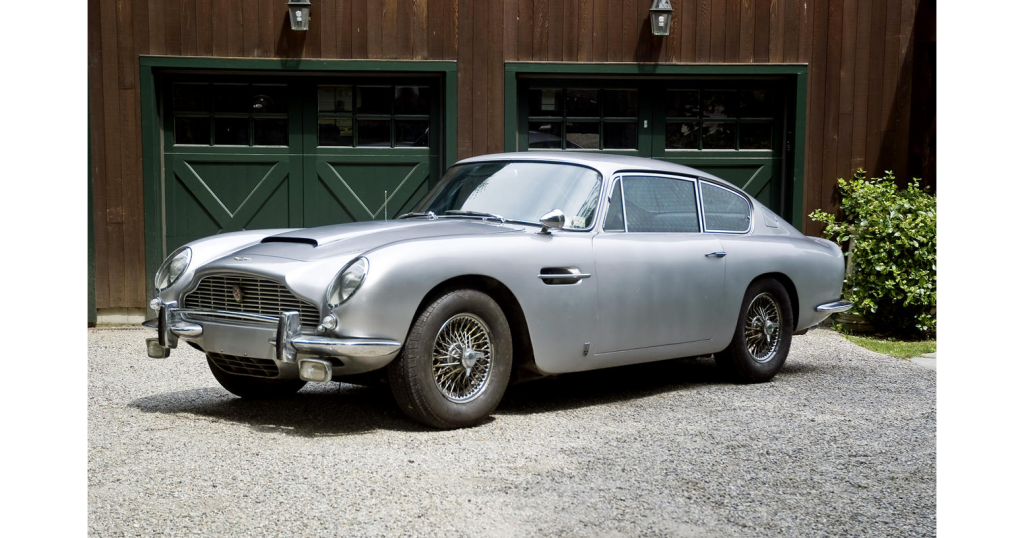 "Close inspection of the car today confirms the retention of its desirable features, while suggesting that it has probably been repainted once in its life to the original grey. A 'Cote d'Azur' badge on its grille is more likely to have been a personal souvenir, than evidence of an overseas excursion for the car. The interior is virtually complete in every regard and only the drivers seat shows wear commensurate with its age. The odometer reads 46,430, which is again consistent with the condition of its bodywork and interior. What is interesting about this relatively low number DB6 is the fact that all of the trim pieces are still present as are the Aston Martin electric windows which work perfectly."
1997 McLaren F1 GTR 'Longtail' FIA GT Endurance Racing Coupe Chassis no. 028R by Bonhams did not sell.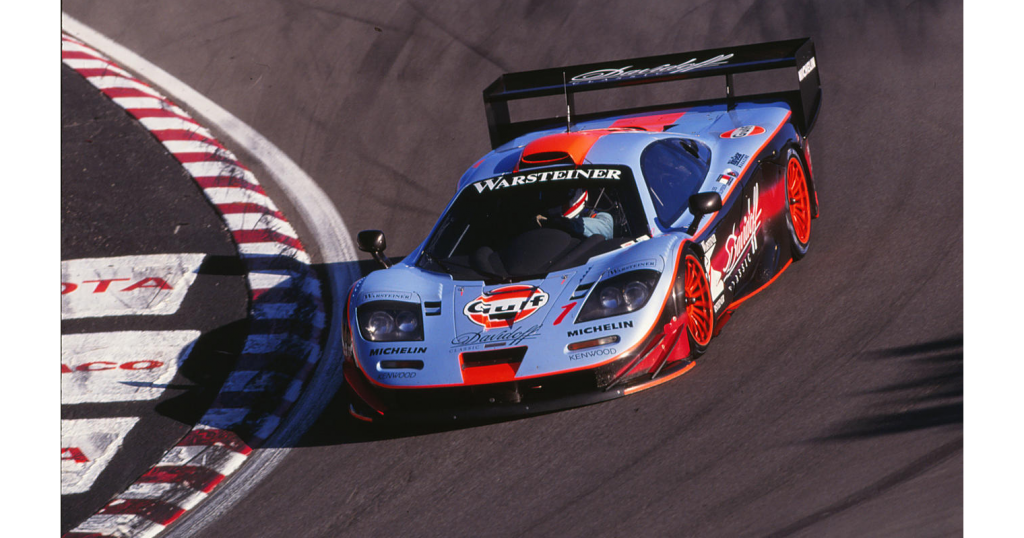 "In recent years market perception of the McLaren F1 production cars – and their more glamorous F1 GTR racing sisters such as '28R' offered here – has grown with fantastic rapidity. So many superlatives have been justifiably heaped upon this street car design that went racing, that we can hardly add more. The McLaren F1 GTR is the production-based racing model that won Le Mans, and then in its more sophisticated racing iterations – as offered here in this ultimate 'Longtail' variant – took on the giants of Mercedes-Benz and Porsche on unequal terms…and sometimes beat them. "
1969 MG C GT Coupe by Mecum sold for $44,000 USD.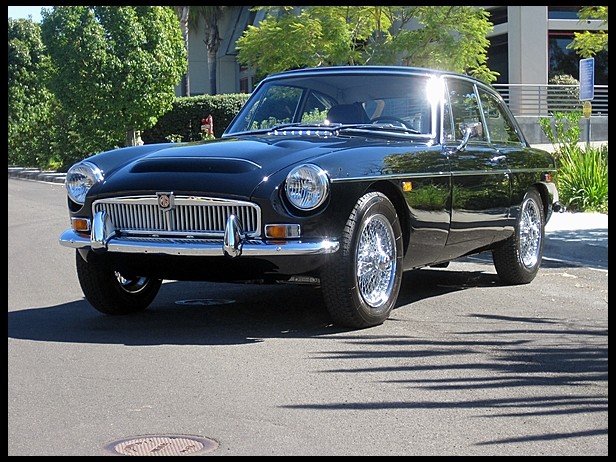 "- Comprehensive restoration with no expense spared
– Handsomely finished in Deep Black with matching upholstery piped in Red
– Completely disassembled, restored and finished in high quality paint
– All systems were restored, rebuilt or replaced, including the fuel system, cooling system, hydraulic system and electrical system
– All brightwork was replaced or replated
– Complete new upholstery was professionally installed
– Engine, transmission and all components completely rebuilt
– Since restoration, has only seen a few test miles and fastidious maintenance within the private collection of its previous owner
– Complete with all tools and offers six cylinder power to complement the timeless design of its predecessor"
1956 Austin Healey 100/R Custom Rally Car by Russo and Steele did not sell.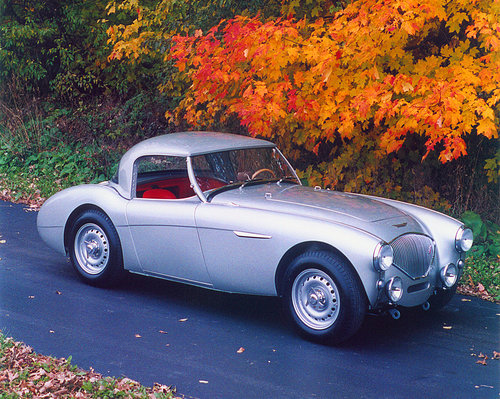 "This car is a concept of what I felt BMC could have done with the 100 if their priorities were different. The rally effort for the 100's was nothing like the six cylinder cars, racing and sales being up front. I tried to use all of the current pieces and methodology that worked with the concept. All appropriate 100/S pieces (fuel tank, vented seats, hood hold-downs, alloy body) worked well. Other pieces were modified or manufactured. I always loved the Dunlop alloy pin drive wheels on "D Type" Jaguars and Healey land speed cars. I worked with a company in England to have these cast. The center offset is a bit different than other repros. When I saw a period photo of the 100S prototype with these wheels, the idea was reinforced."