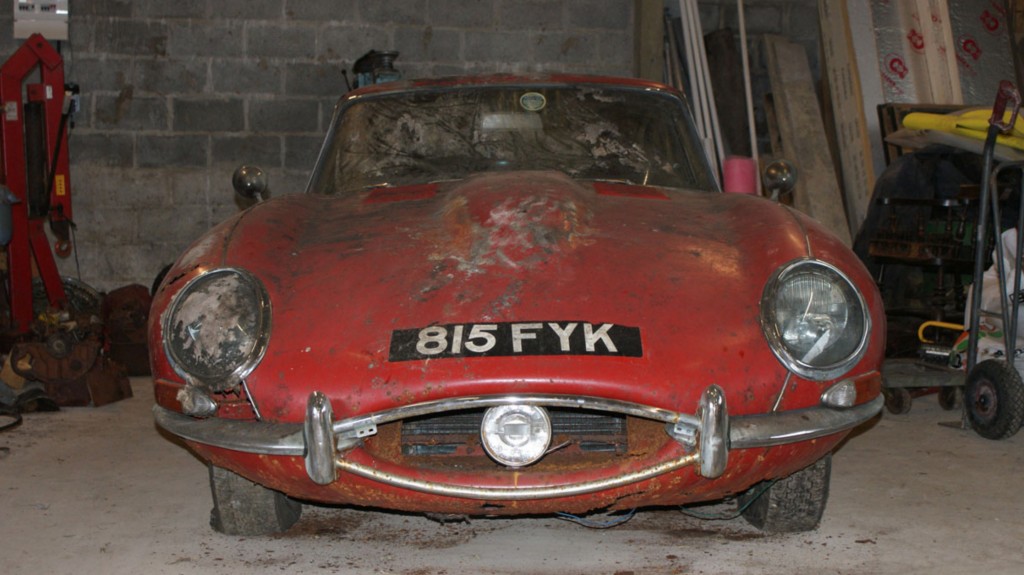 "instead of getting it fixed he (the owner) put the car into storage in a lock up until the 1980s, he then moved it to his garden where is remained under a tarpaulin until the present vendor rescued it in 2015"
Leaving collector cars out to rot usually never ends in a good story.
That is unless it's an early 3.8 FHC Jaguar and the value has recently skyrocketed.
Coys and the owner of this E-Type stand to profit from this storage misadventure by offering chassis number 861107 at their 2016 Spring Classics event.
Coy's says the car's fourth owner Frank Riches "raced both the E-Type and his MGTF at Oulton Park, Brands Hatch and Blackbushe between 1967 and 1969. Frank would drive the E-type to the circuit with the MG behind and would then race both cars and drive home! "
They also describe the condition "This wonderful "Barn Find" car is in original condition, with matching numbers and has never been restored. It retains all the features it carried in 1969 and is possibly one of the most original examples remaining today. The interior could be restored given it has all the original switches, gauges and tooled aluminium panels along with the original steering wheel etc. The seats have a lovely patina and should be saved. Obviously the car needs a total restoration but it has all the ingredients to make a superb example – this is a true rarity!"
It will be offered at Monday 7th March at the Coys Spring Classic Sale.
*** Update: sold for £62,000***
*** Update: fully restored and offered by
Garden-find images:
https://www.youtube.com/watch?v=IVZXRGGit
https://www.youtube.com/watch?v=fK316qmf7iw