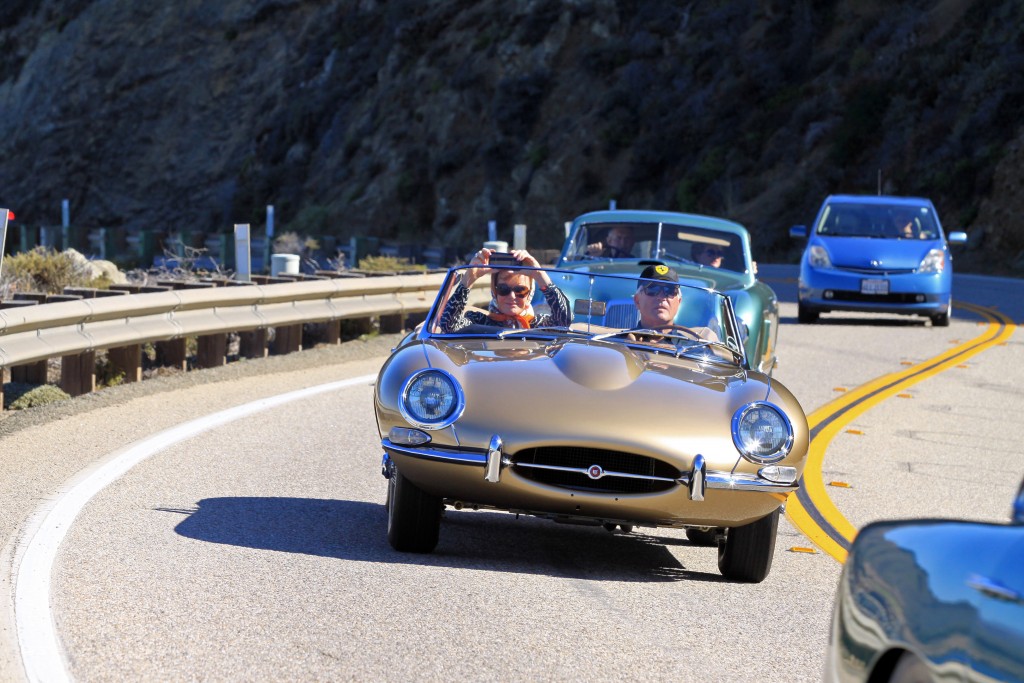 While down in Monterey I spotted this gorgeous 1962 Jaguar E-Type owned by Randall Smalley of Mesa, Arizona: both at the Carmel Concours-by-the-Sea and during the 2015 Pebble Beach Tour d'Elegance.
According to the heritage certificate this E-Type, chassis 876040 was completed in November of 1961 and painted Opalescent Bronze with Beige interior for its first owner, J.L. Rein in Santa Monica, California.
It as since been restored in a hue of Golden Sand by Classic Showcase in  California. They rebuilt the original R2541–9 cylinder head and engine.
On the great xkdata.com, 876040 is listed as sold at Barrett-Jackson in 2002 for $102,600 USD and Sports Car Market reported it was "one of the best in the world" at the time.
Looking at http://www.jcna.com, this car scored an impressive 99.040 at the JOCLA Concours and a perfect 100 at the from the JCOCA again at the International Jaguar Festival held in Scottsdale in 2016.
Just pouring over the details it appears alot of passion and hard work went into a fit and finish of this caliber. It retains the J-62 tag issued only for the California state.
The owner reports that at the time this car cost "$5,595 against the Coupé's $5,895, the Mk2's $5,095 and the MK10's $7,384."